Through the monthly export evolution analysis, we can draw some conclusions, both as used channels and business models.
In this respect, we should remember that companies usually delivered and checked their exports before the beginning of the new season, so there was a high seasonality, and most of the exports were concentrated in August and September for Autumm and Winter products, and in February and March to deliver Spring and Summer collections.
However, as can be seen in the next graphic and table, the average export rate in August and September of the last six years, only represent 21% of years global, and February and March, another 16% (average prices of summer cloths are always cheaper than winter cloths prices).
In other words, seasonality has dicreased,because the gap between worst months talking about exports, which represent 7% of global, and the best months, that represent 11% is only 4 points.
These data show evidence of two realities, on the one hand, control over value change, and on the other hand, the existence of a high product turnover.
Talking about distribution channels, the growth of one-brand stores or franchises, explain this regular behaviour.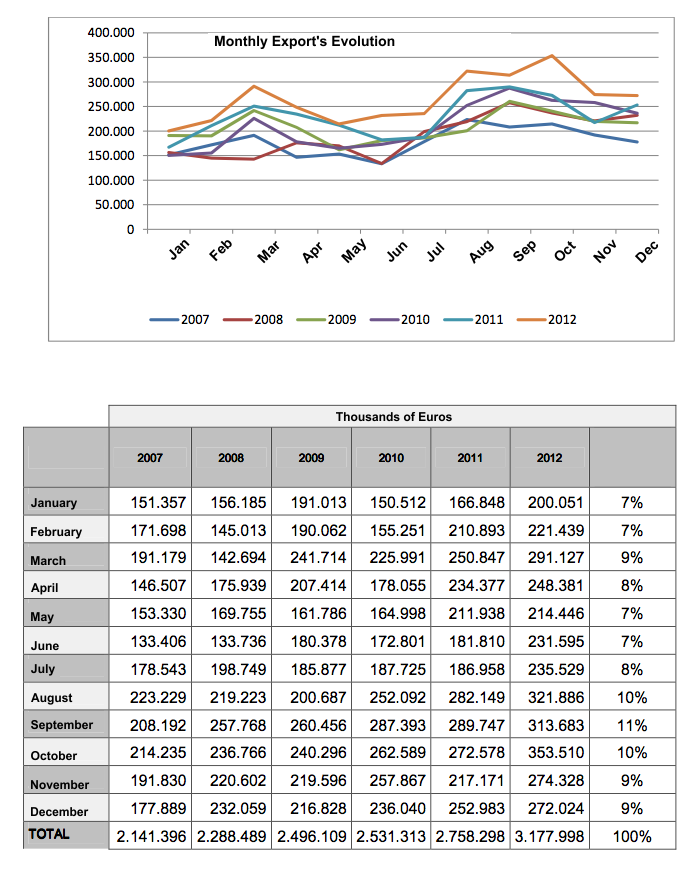 Distribution by product
As regards of the product typology, female clothing overrides other issues, even though male clothing keeps shrinking the gap, growing 20% compared with 14% grewth of the female stuff last year.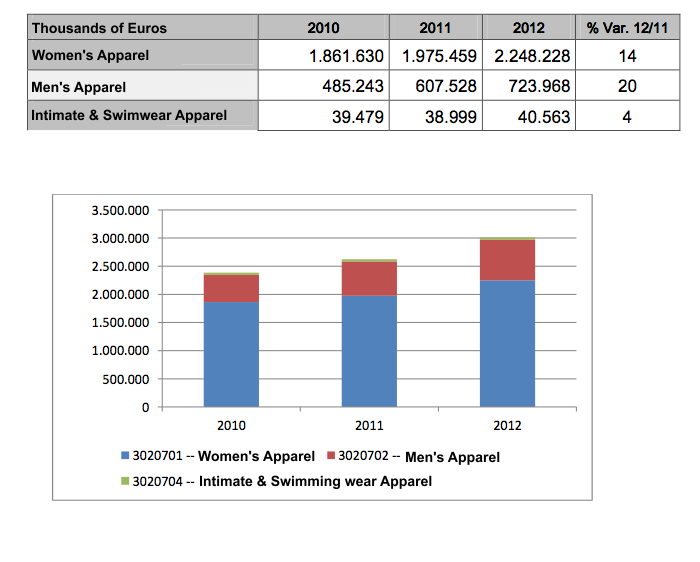 Shipping logistics
Next table shows which are the most used export means of transport, where road and air transports override the other means, becacuse of their flexibility and quickness.
While there are some differences between provinces, these differences are explained because of limited access, infrastructures and company typologies. However, it's important to pay attention to the relationships between these rates and the absolute values, because 2% of sea trasport from Coruña represent a bigger amount of clothes than 19% of Pontevedra's export by sea transport.

For the Galician exports as a wholedistribution is as shown in the next graph: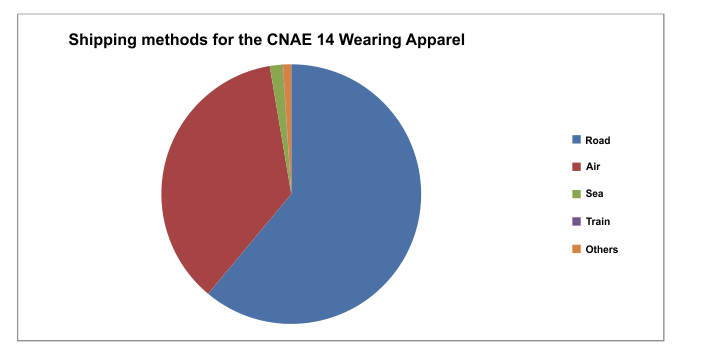 Province differences
Textile and fashion Galician sector spreads throughout the region, with a bigger presence in three of the provinces, with singular features according to the most important company in everycase.
So, in Coruña, statistics refered to Grupo Inditex, absolutly darkens the rest of stats of the other companies of the province.
Something similar occurs in Orense, with the volumes offered by STL and AD.
However, Pontevedra's case, where export rates of B&L aren't still that stunning, we can consider it as a representative sample of what is happening to another Galician pymes of this sector, with a result that cannot be more desolating, as can be seen in the next graph:

In the next graph, we can see the different evolution during the last years of companies from Orense, specially STL and AD facing companies from Pontevedra, it shows the differences between the two models,and their special features as shown:

So, it seems that one of the keys for success in export, can be found in the size of the company and in the access to the different markets strategy based in the one-brand concept and not in the product,that has become a necessary, though not sufficient, condition.
Anyway, also should be mentioned that there are some cases of small companies with a niche policy, accessing modern multi-brand stores, with a high quality and "nice" product are getting reasonable results.

On the other hand, and on top of this, in previous paragraphs about the growing number of companies that have exported last year, which Pontevedra leads, it's also interesting to see the evolution of the average amount of every export operation.
This data is obtained from dividing the total of annual exportations by the number of operations made per year, and as a result we get the next graph:

In a first sight, it seems that when we exportto our own one-brand store, the quantities are smaller than when we sell to a client. Anyway, it's an interesting data that everyone can check with the numbers of their own company.